Superfast Fibre broadband for gamers from MyRepublic!
Sign up to Fibre Gamer 100 on a 12-month contract and get a FREE Speed Boost to Fibre Gamer Pro for only $99.99/mth. 
Includes a Gamer rental router upgrade to the D-Link EXO (RRP $399.99). 
Experience Gamer at up to 950/500Mbps for 12 months, then choose on month 13 to keep your speed for $129.99/month or downgrade to 100/20Mbps.
Offer expires 31/10/2019. Terms and Conditions apply.
SIGN UP ONLINE BY CLICKING BELOW OR CALL 0508 226672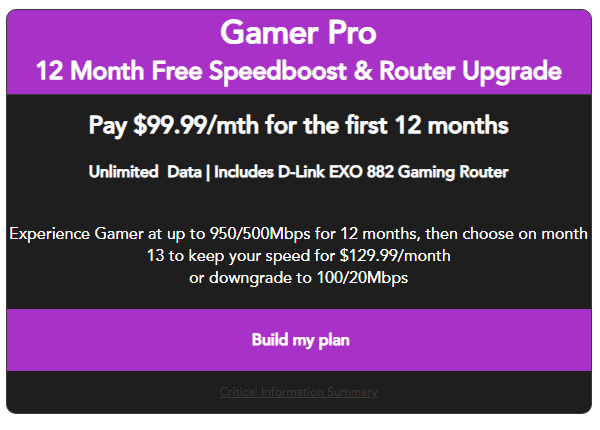 Terms and Conditions
▪ Sign up to Fibre Gamer 100 (Fibre Gamer 200 in Enable) on a 12-month contract and get a free speed boost to Fibre Gamer Pro for only $99.99/mth
▪ After the 12-month contract, customers can choose to:
‣ Downgrade to Fibre 100/20 (Enable 200/20) at $99.99
‣ Stay on Fibre Gig at $129.99
▪ Includes a rental router upgrade to the D-Link EXO (RRP $399.99) + $14.95 P&H
▪ An Early Termination Fee of up to $240 applies and an unreturned router charge will be applied in accordance with
▪ The availability of this offer is limited to new orders placed between August 12th 2019 and October 31st 2019